Mrs. Edmonds' Chemistry Page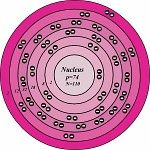 ---
Click here to see the assignments we have completed this quarter.
Classroom Rules
---
Chemistry Links:
Periodic Table Links - http://www.chemicalelements.com & http://www.webelements.com
National Mole Day Link - http://www.moleday.org
Molecules with silly or unusual names - http://www.bris.ac.uk/Depts/Chemistry/MOTM/silly/sillymols.htm
Science Cartoons: http://www.mrseiler.org/cartoons.html
Chemistry Jokes:
Two hydrogen atoms bumped into each other recently.
One said: "Why do you look so sad?"
The other responded: "I lost an electron."
Concerned, One asked "Are you sure?"
The other replied "I'm positive."
Q. What do you call a tooth in a glass of water?
A. One molar solution.
Q: Why does hamburger have lower energy than steak?
A: Because it's in the ground state.